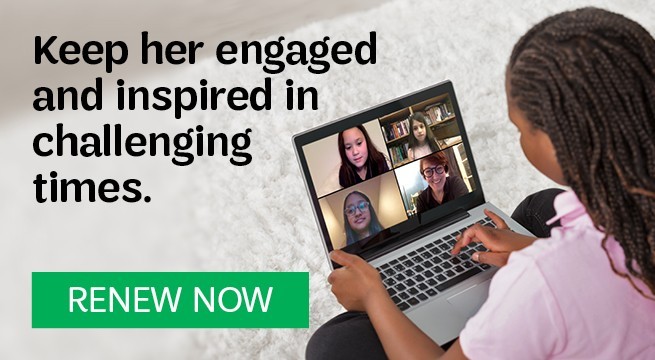 Renew
There is more to explore this year in Girl Scouts! Renew your membership today to stay connected to the fun, adventure, and sisterhood.
In challenging times, our Girl Scout grit shines the brightest. Connection is more important than ever as we continue to evolve and change, and we're adapting to meet her needs. That's why we're prepared to be a source of consistency for you and your girl when you need it most. While many of the things she was looking forward to are canceled, Girl Scouts is still happening. From home and online, for as long as she needs to, she can:
Keep the Girl Scout experience going and stay connected while earning badges through online activities with the NEW Girl Scouts at Home
Participate in live virtual events and safe service projects that keep her engaged and inspired
Gain tangible, innovative problem-solving and life skills
Grow confidence in her outdoor skills and learn how to be a champion for the environment
Expand her imagination through hands-on STEM activities

Program scholarships are available for those in need.