Gold Award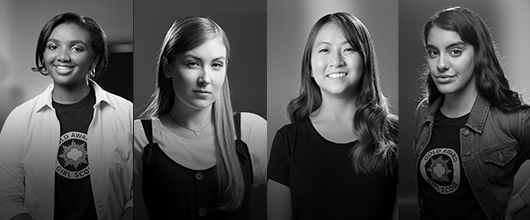 The Girl Scout Gold Award is the highest award a Girl Scout can earn. Once achieved, it shows colleges, employers, and your community that you're out there changing the world.
Join over a century of women who have done big things. Learn about scholarships for Gold Award Girl Scouts, the history of the Gold Award, and the benefits of going Gold.

A representative from council will contact you within 7 business days with confirmation that you've completed the workshop. Once you've receive confirmation, you may create an account in GSUSA's Go Gold Online portal. Here, you will submit your proposal. Your proposal will then be reviewed by our Gold Award Committee. Please give our committee 1-2 weeks to make their recommendations or give approval. If you receive recommendations, please make those updates and resubmit your proposal for final approval. Once you receive final approval on your Gold Award proposal you can move forward to the next step.
From here you will be assigned a liaison from the Gold Award Committee who will be able to assist you with any questions, suggestions, or obstacles throughout your journey. Now you can begin your Gold Award project! Please keep in mind that the Gold Award requires a minimum of 80 hours, so be sure to plan accordingly. Most Gold Award projects take a year or more to complete.
To submit your final report, you will log back into the Go Gold Online portal where you submitted your proposal and enter the details of your final report. If you would like to be recognized at this year's Young Women of Distinction, you will need to complete and submit your final report no later than March 1 in order for the committee to approve your project in time for the March 15 deadline. Otherwise, you will be recognized at the following year's ceremony. The absolute last deadline to submit your final report is September 30, following your senior year of high school.
You can pursue your Girl Scout Gold Award if:
 

You're in high school (ninth through twelfth grade, or equivalent) 
 

You're registered as a Girl Scout Senior or Girl Scout Ambassador
 

You have completed two Senior or Ambassador Journeys OR earned the Girl Scout Silver Award and completed one Journey
 
Girl Scout Gold Award Steps


Investigate your issue thoroughly
 

Get help and build your team
 


Present your plan and gather feedback 
 


---
If you need assistance, please contact awards@gsgcf.org and we will be happy to help you! A council representative will occasionally check in with the status of your project to offer guidance and motivation. Congratulations on making the decision to pursue your Gold Award, the highest honor in Girl Scouting!
---
GOLD AWARD COMMITTEE
The Gold Award Committee is a group of volunteers who are committed to upholding the high standards of the Girl Scout Gold Award, have the time to dedicate to girls pursuing the award, and have connections in our community to elevate Gold Award projects to their highest potential. The main responsibilities are evaluating and approving proposals and final reports, and mentoring approximately five girls in pursuit of their Gold Award at any given time. This role typically requires 5 hours a month and has a mininum investment of 1 year; all responsibilities can be accomplished electronically. If you have questions regarding the position, please contact awards@gsgcf.org. Apply here to sit on the Gold Award Committee.
Download the Gold Award Committee Position Description HERE.