IMPORTANT NOTE: In response to the coronavirus, we have closed our offices and properties and suspended council-sponsored activities through May 4. Our staff will be available via phone and email during our regular administrative business hours, Tuesday–Friday 7:30 a.m.–5:30 p.m. 

Mark Your Calendar! The Giving Challenge is happening from noon-noon on April 28-29, your gift up to $100 will be matched 1:1 by The Patterson Foundation. This amazing opportunity, presented by the Community Foundation of Sarasota County, will ensure that we can continue providing the best leadership development program for girls in the world.
Continue >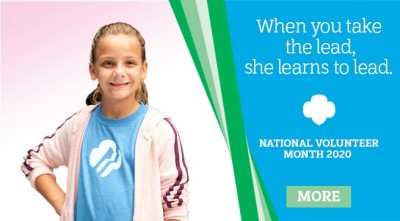 National Volunteer Month is near and dear to our hearts. Every April, we celebrate the powerful, life-changing contributions our volunteers make to Girl Scouts all year long. No matter what the world throws at us, they are the ones who keep the Girl Scout spirit strong—and whatever they bring to Girl Scouts at this time, their efforts are incredible and appreciated. Thank you from the bottom of our hearts!
Continue >
Due to COVID-19 safety restrictions, there are no events at the Charlotte Harbor Event and Conference Center through May 2020.
Therefore, Girl Scouts of Gulfcoast Florida has rescheduled the Young Women of Distinction Awards Ceremony for July 12, 2020. 
Continue >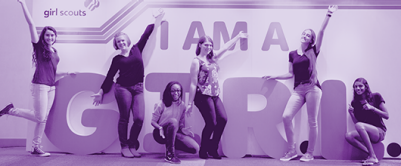 G.I.R.L. 2020
Be a part of one big, bold celebration! G.I.R.L. 2020 is a momentous chance to spark change through targeted conversation, leadership, and action—Girl Scout style. Join generations of Girl Scouts and their supporters from across the nation and around the world—register now for this once-in-a-lifetime experience!
Continue >